Why look for alternatives to Google Maps API?
Google Maps is probably one of the best among currently existing Map and Geolocation service providers. However, after the significant pricing increase in 2018, Google Maps Platform has also become the most expensive one.
At times of economical turbulence like now, more and more businesses are looking for ways to cut costs while maintaining the same level of service. And we can help you with that!
More good reasons to switch

Back to Control
Google Maps APIs may work well most of the time, but it is the "one-size-fits-all" solution. You can not control what is displayed on the map or returned by Geocoding API.
With Geoapify you can control your maps and services. Decide what you show and how you display it!

Back to Freedom
Google Maps Terms of Service have strict rules that disallow the usage of Google Maps Products with 3rd party services. For example, it's not allowed to use Google Maps geocoding with Non-Google Basemaps, nor cache or store the results.
Geoapify does not limit you in how you use the APIs. Be Free and choose the best services for your business!

Community-driven data
Community-driven and open data projects, like OpenStreetMap, OpenAddresses, and many others, took the leading positions among geodata sources in the past years.
Get accurate, rich, and up-to-date data by switching from commercial datasets, like Google Maps, Here and others.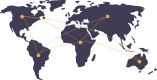 Scalability and flexibility
You have to use Google Maps SDK with Google Maps APIs, in order to enforce vendor lock-in.
Become flexible and avoid vendor lock-in by switching to open-source map client libraries, like MapLibre GL, Leaflet, OpenLayers, that do not bind you with any specific service provider.
OpenStreetMap, or OSM, is yet another example of a project that manages to compete with a massive tech company simply by crowdsourcing a problem. Much like Wikipedia challenged Encyclopedia Britannica and Linux took on Microsoft Windows, OpenStreetMap is battling Google Maps, and at least in some cases, it's winning.
Caleb Garling, Wired (01.09.2012)
Geoapify Platform pricing vs Google Maps pricing
Save up to 90% off with Geoapify APIs
Here is an overview table of the Geoapify Location Platform and Google Maps API pricing. It is important to note that Google Maps API measures usage differently, for example, Google Maps Platform counts map views but not map tiles. We tried to align Geoapify Pricing with Google Maps API Pricing by using statistical data for our platform. For instance, we count one Dynamic Maps view matches 20 tile requests. The numbers may be different depending on the use case, map display size, and other factors.
| API | Geoapify Platform | Google Maps APi |
| --- | --- | --- |
| Dynamic Maps (per 1000 map loads) | 2$ | 7$ |
| Geocoding (per 1000 requests) | from 0.03$ to 0.13$ | 5$ |
| Routing | from 0.6$ to 0.75$ | 5$ |
Moreover, Geoapify Platform Free tier is far larger. For example, 100,000 Geoapify Geocoding requests vs 20,000 Google Maps Geocoding requests.
Geoapify API vs Google Maps API
Side by side feature comparison
We mentioned only the most marketable APIs in the table. More Geoapify APIs >>
How to switch?
It's easier than it sounds! All popular map libraries - Mapbox GL & MapLibre GL, Leaflet, OpenLayers - have a great community and tons of examples. We also support you with code samples, instructions as a part of our API documentation, as well as private consulting. Check our documentation and code samples >>