Map tiles and basemap layers
Choose a map style that fits best your website or app design
We offer OpenStreetMap based map tiles in raster and vector formats for the best interactive maps experience. Our map tiles are compatible with all popular map rendering libraries and technologies, including Leaflet, Mapbox GL, and OpenLayers. Start now for Free and upgrade when you scale.
>

OpenSteetMap based
With more than 6 millions of contributors worldwide, OpenStreetMap is the world's biggest community-driven geodata source. Benefit from the most feature-rich, up-to-date, and accurate map tiles.
Vector and Raster
Vector tiles are rendered client-side and offer unparalleled flexibility, smooth zoom and animation, dynamic styling, and multilanguage support. Raster tiles are pre-rendered on our servers and excel in speed, compatibility and a level of details.
All major languages
By default, map tiles use the most common local language for each area. However, with vector base maps you have full control and can change the display language of the map, even dynamically.
Affordable price
Our pricing plans are affordable and permissive. Start with our generous Free plan. Upgrade when needed. Our fixed pricing and soft limits save you from any bad surprises.
Going big? We have Custom plans with unmetered API requests starting from 700 € per month!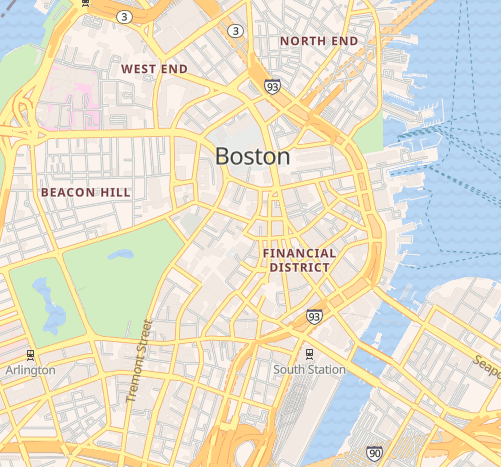 Vector and Raster maps
Geoapify Location Platform provides both raster and vector map tiles. Choose between different styles and colors and create a map that fits your website or app design and requirements. Check our article about the Pros and Cons of both map types to better understand the differences.
Develop a map with our code samples and templates
Check our documentation and code samples to create a custom interactive map within minutes
On our documentation page, we provide template and JSFiddle code samples that help you to get started. Moreover, you can use our interactive Maps Playground to check available styles and options. It also provides ready to use code snippets for each map style.
Still not sure how to start, face any problems or have questions? Please let us know, we are here to help!
FAQ
How fast are Geoapify tile servers?
Our maps are served by powerful dedicated servers with fast NVMe storage and delivered through a global caching CDN. Over 200 CDN points of presence all over the world guarantee efficient and reliable map loading. We also pre-generate map tiles for all popular locations. However, it is still possible to see a slight map loading delay when a map area that is accessed for the very first time.
Do I need to provide attribution to visualize a map?
Yes, OpenStreetMap attribution is required as the map tiles are based on OSM data. Moreover, Geoapify attribution is required for all Free plans. The attribution is added automatically when you create a map by using style.json specification.
How can I modify map styles or create my own map style?
Yes, it's possible. Map styles should follow the Mapbox GL style specification. You can create your own map style from scratch or derive it from one of the existing styles. We recommend using a visual style editor like Maputnik - open and load style.json URL make your modifications, export generated style.json and and use it in your project.
Are Geoapify maps compatible with my technology stack?
Our Map Tiles API follows the most widely supported ZXY tile format with 256x256 sized tiles. It works well with almost any software, library, SDK, or technology that supports tiled map sources. Older SDKs and GIS software like QGIS generally support only raster maps. For new applications, we recommend using MapLibre GL for Web and GL Native for Mobile development.
Can Geoapify maps work without an Internet connection?
Yes, this is possible. Geoapify Maps and Geoapify Location Platform in general can be configured and installed on-premise. Please contact us for details.
How often do you update Geoapify maps?
Maps and underlying datasets are generally updated once per month. Contact us, if you need more frequent updates.
Can I create a printable map with Geoapify?
Yes, you are free to print our maps as long as you respect the attribution requirements. We recommend using vector map tiles for generating smooth high-DPI images. Please also take a look at our Static Maps API as an easy way to generate print-ready static map images.
I require a map for my website, but I am not a developer. Do you have a use-ready solution?
Sure. As an alternative to developing a custom map we have a Map Builder - Mapifator. It allows for creating maps and showing some places on them. With Mapifator you create maps with a graphical interface and no coding.