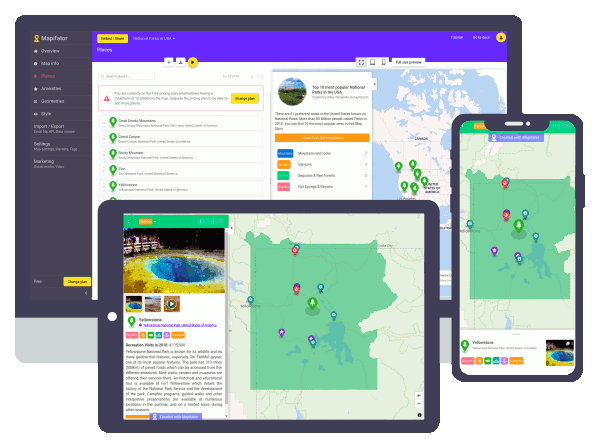 Create beautiful interactive maps with Mapifator
Map builder that works in your browser. No installation, no coding required
Mapifator is an online map builder that helps you to create your own custom maps and visualizations. Mapifator is very easy to use and supports a wide range of scenarios, ranging from making simple maps with pins to advanced data visualization and location intelligence maps.
Register and create your first map for free right now!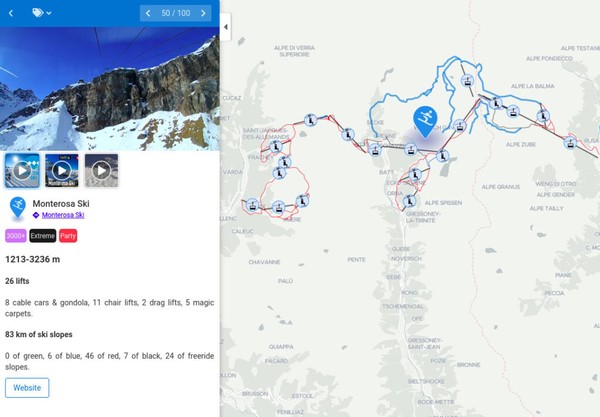 Tell more about places
Display places, amenities, and geometries
Mapifator map builder allows you to visualize places and information about them. You can easily add descriptions, images, media, and external links. Added places can be further organized, tagged, and filtered.
It is also very easy to add axillary information like boundaries, routes, or nearby amenities. And best of all, all that data and features are already built into Mapifator - just a few clicks away.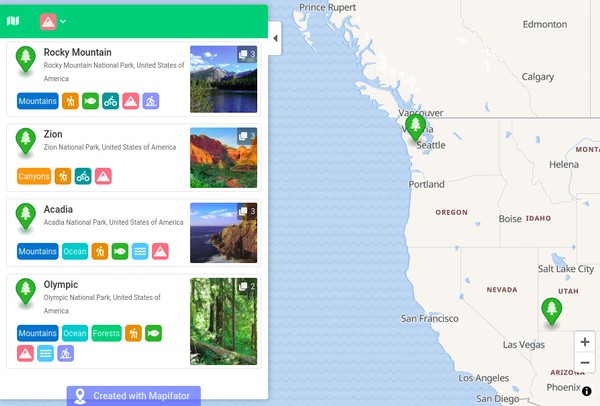 Add tags and category filters
Mapifator allows adding different tags to places and filter places by tags on the map
Places in Mapifytor map builder can have tags, which specify some features. For example, this could be "party", "children", "$$$". A tag has a color, text and can have an icon.
Furthermore, in Mapifator you can define tag filters that allow your customers to filter the places by tags.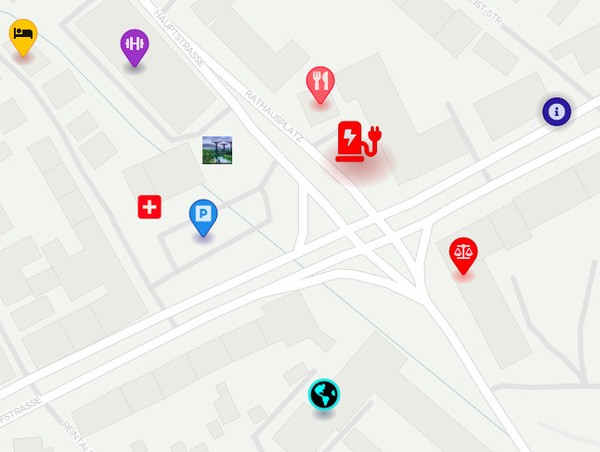 Amazing pins and markers
Fully customizable place markers - shape, color, icon, text and more
Mapifator map maker includes a powerful custom marker designer, that helps you to create beautiful and attractive pins and markers for places and amenities.
More than 350 map icons are available now in the Mapifator map editor. And we constantly extend the list. Moreover, you can use custom pictures and make your map unique.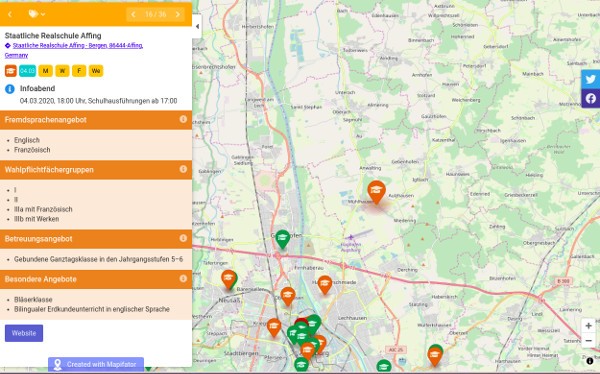 Format a text to make it easy to perceive
With the Mapifator map builder, you can decorate the text with visual blocks and icons
Mapifator supports the concept of "features" to help you to format information and make it more appealing. Define visual blocks, choose visual styles and templates. Add colors, images, and icons to make your textual information easier to perceive.
Easy to share and embed a map into a website
You do not have to be an expert to embed a map to your website. Just copy & paste embed code from "Share / embed the map" screen to your blog or webpage.
Mapifator maps are powered by the fast and reliable Geoapify Location Platform cloud, so you do not need to worry about hosting or any additional resources or configuration.
Customized map design
You can choose between different map styles and layouts to make the map fit into your website or application. Moreover, you can redefine the color theme used for panel headers and buttons.
Import data from a file - CSV, Excel, and more
You do not have to enter information manually - it can be quickly and easily imported into Mapifator from a file. Mapifator automatically recognizes columns and matches free-form place names and addresses to map locations.
More flexibility with API
Mapifator map builder doesn't require coding to create maps. However, if you like you can use Mapifator API to add data automatically and dynamically.
Ready of Social media
Add a social media share button to a map to allow sharing the map in social media with 1-click only. Mapifator supports all major social networks and generates great-looking posts accordingly to the social network recommendations.
Something is missing? Contact us!
Do you think some that functionality is missing in Mapifator? Please do not hesitate to contact us! We will be glad to help and extend Mapifator to fit your needs.
Maps with static and dynamic content
Depending on your use case and amount of data, you can choose between static and dynamic maps
Static map
Default option. Works great when you can define all data when creating or editing a map, and you have less than a few hundred places to visualize. All places are added or imported using Mapifator map editor, and immediately available when the map loads. There is no extra time required to query and visualize data when somebody navigates it. Data can be added manually, imported from an Excel file or added with Mapifator API.
Dynamic map
Useful when you have thousands of places or want to dynamically load information on a map view change or by a timer from an external resource. There is virtually no limit on the amount of data that you can visualize, and you do not have to use the Mapifator map editor to update the data. From another side, if the data source is slow or unreliable, your map may take longer to load or appear empty.
Good examples of where dynamic maps could work best are asset tracking, map of gas stations with up-to-date prices, or a map that shows company product availability at specific retail stores.
Dynamic maps are only available on paid plans