Static Maps API for map pictures and print maps
Create map images with markers for website, app, and print media
Geoapify Static Maps API generates map pictures in JPG or PNG formats. The generated pictures can be displayed on any applications, devices, and websites. The API allows creating high-resolution and big-size pictures that can be used for print media.

Multiple map markers
Create a static map with markers or no markers. You can use map markers icons generated by Marker Icon API.

High-resolution maps
Static Maps API can be used to generate big-size and high-resolution map pictures. The API supports JPEG and PNG image formats.
No JavaScript or library required
No client library or coding required to use Static Map. Just generate a map URL and embed it as an image to your website or application.

Generate with GUI or dynamically
You can generate a map URL dynamically in your code or use the Static Maps API Playground. The Playground also provides HTML and CSS examples to embed the map.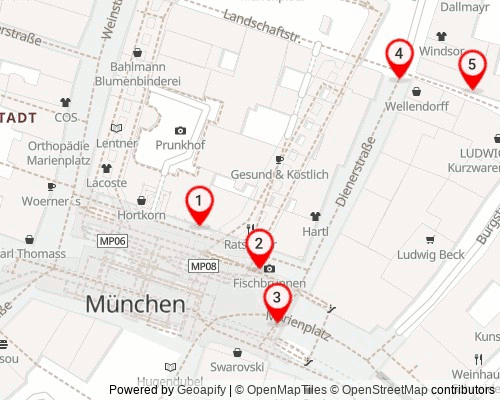 Quick Start
Step 1. Get API Key
Register on MyProjects Geoapify. Create a new project and get an API Key.
Step 2. GGenerate Static Map URL
Set the API key as Playground API Key and open Static Maps API Playground. Setup the map view here and add map markers. The marker icons for the map can be generated with Marker Icon API.
Step 3. Embed as an image, HTML or CSS
Copy & paste Map URL or HTML code or CSS properties to your project.
FAQ
What is the pricing for the Static Maps API?
Static Maps API calls are calculated as a combination of Map Tile requests and Market Icon API requests required to visualize the map. Check our Pricing for Map Tiles. You can roughly estimate the number of tiles by dividing the area of the static map by area of a map tile. For example, width x height / (256 x 256). Please note, that when a pitch parameter is different than 0, the number of tiles can be bigger.
Can I cache static map images?
Yes, you can. But the map attribution should stay.
Can I generate a map image for retina screen?
Yes, you need to provide scaleFactor=2 to map URL. Read more about Static Map API parameters >>
What is maximal map image size I can generate with Static Maps API?
The maximal map image width and height is 4096px. Contact us if you need bigger pictures.
Can I display routes and other geometries on the map?
Not at the moment, but the feature is coming soon.