Even if OpenStreetMap has a "map" in its name, it's not just a map. It's a collaborative project, which allows collecting and structuring geodata into a database. The OpenStreetMap database, in turn, becomes a base for detailed and up to date maps, map components and map solutions on top of it.
The OpenStreetMap community is the biggest GIS community in the world and counts more than 1.000.000 active contributors so far and grows every day. As a result, we have accurate and up to date maps data for the whole planet. Read OpenStreetMap wiki to learn more.
Are OpenStreetMap data and maps free to use?
OpenStreetMap data is absolutely free! Everybody can download and use OpenStreetMap data for personal or commercial purposes (do not forget about attribution). In addition, there are many open-source projects with a permissive license, which use the OpenStreetMap database and allow creating maps, components, and tools based on them.
But what is the cost of setup, running and maintaining map services? It requires a lot of time, resources and expertise to start, run and keep up to date your own OpenStreetMap database instance, map tiles servers and map components.
That's why there are third-party commercial companies offering products and components based on OpenStreetMap data.
Products based on OpenStreetMap data
Besides the maps by itself, there are many applications based on OpenStreetMap data - everything around maps, geospatial analytics, and location intelligence. The applications and services could be split by type. Some of the types are listed below.
Map tiles servers
Map tiles it's prepared parts of maps. During map rendering a mapping library requests required map tiles from a server. Map tile servers could provide different map styles and even different formats. For example, raster or vector formats.
Geocoding and reverse geocoding
Geocoding and reverse geocoding are two base map operation you usually perform. The first one gives a place coordinates from the place address, the second one returns an address by coordinates.
You use geocoding applications for search on a map and input autocomplete.
Routing
Routing applications build a route between two or multiple points. Moreover, some of them are able to calculate the optimal routes and provide turn-by-turn directions. Together with driving or walking transportation modes, a lot of routing applications are able to build routes for public transport.
Places and amenities search
Places and amenities search services allow searching locations for given criteria. For example, "restaurants near me which are open now", "all P+R in the city" and so on.
Some services provide geodata and polygons for some features. Which could be useful when drawing administrative or political boundaries or other regions on a map.
Isodistances and Isochrones (reachability and travel time maps)
How far can I get within 30min from my home? Where to book a hotel not to spend more than 20 min traveling to my points of interests? Isodistances and isochrones show areas reachable within a given distance or within a given time from a location.
As well as routing, iisolines are built for a transportation mode or a combination of transportation modes (for example, public transport + walking, park + ride).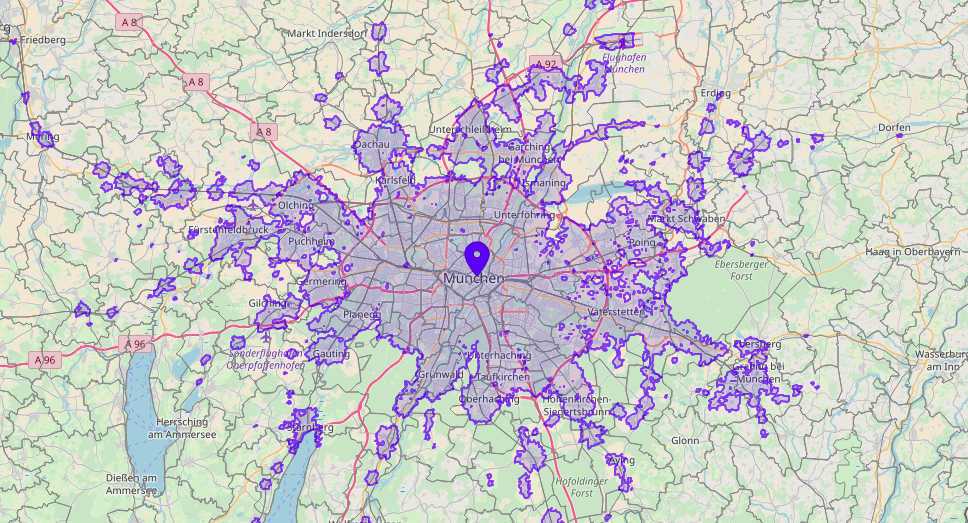 Geoapify offers APIs and components based on OpenStreetMap data
We provide everything you need to create a map or extend an existing map with Geospatial analytics features. Starting from Free tariff plan we offer tariff plans for different load and usage. Register and try our APIs and components for Free.