Map story, places map, interactive map... It could have different names! But with Mapifator - our new map builder, you can create all of them. Geoapify offers you an opportunity to combine places, text, media with GIS maps, so it turns out into an interactive map story.
Share the created map story with your friends, customers or integrate it into your website or application.
Why a map story?
Almost all data has a location component. In other words, if data could be associated with one or several places, it can be shown on a map.
The map completes the data with visual representation, understanding about the size, position and distances. It allows visualizing the data in a more natural, attractive and engaging way. So the result could be interpreted as a picture, amination and interactive map.
For example, one of our demo maps "Top 25 innovative cities Outlook 2019" by A.T. Kearney, Inc. is based on data originally represented as a table: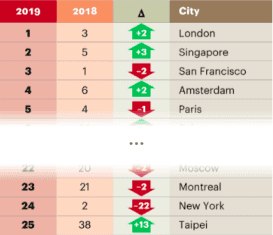 But it shapes into attractive marketing, research, and demo tool when it's represented as a map:
Show places and related information
A place in Mapifator is a combination of location and related information. With Mapifator you can define the place location with location input or on a map. Add interesting text about the place, attach pictures and videos. You can also create call actions with external links that appear as buttons.
Places in Mapifytor Map Story are ordered, so a user can navigate them with arrow buttons on map controls.
Choose the map and controls design
With Mapifator you can customize your Map Story to fit it into your Website or Application design. At the moment you can choose different map styles, define controls layout, and setup icons for places markers.

Add amenities and geometries
Not only places can be defines in Mapifator. You can add amenities and geometries to your Map Story.
There could arise a question - What is the difference between amenities and places? Well, the concept is a bit different. Amenity is some location, which you would like to mention or highlight on a map. For example, it could be airports or train stations, and hotels near the place. They could have a name and sometimes buttons with external links.
The same as amenities, geometries are lines or polygons on a map, which could give some additional information for your users. In Mapifator you can add administrative or political boundaries, routes, and custom lines and polygons as geometries.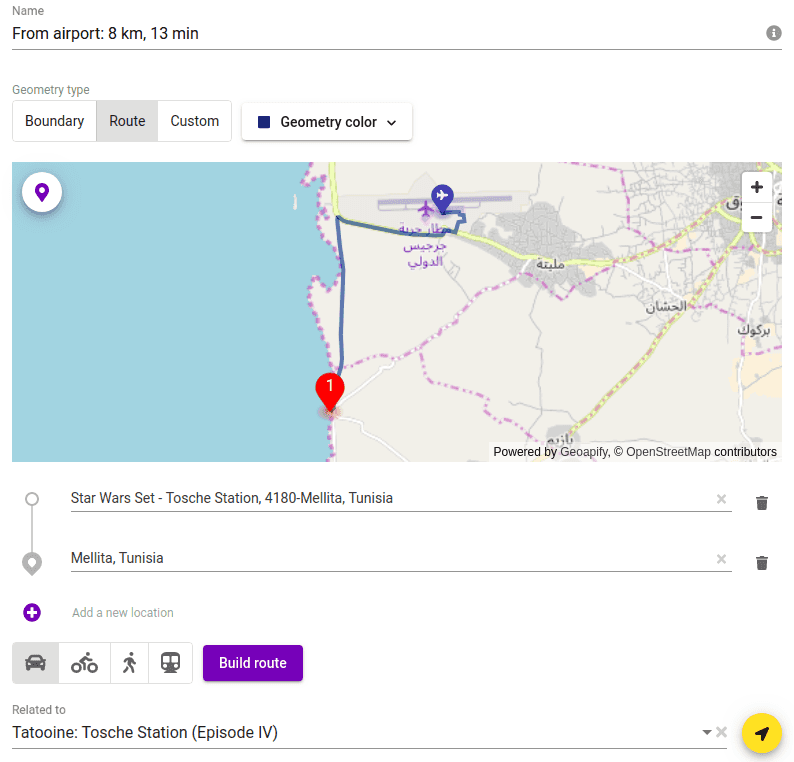 Both amenities and geometries could be independent and visible for any place or related to a place. Those will appear on a map only when the place is selected. Moreover, you can hide amenities on small zoom levels and make them appear on a map only from a defined zoom level.