A lot of us love to travel by car. You don't depend on the public transport schedule, you can have your equipment (ski, bike, boat) with, you can travel with your dog... I travel a lot, but every time by planning my trip I'm perplexed by a road trip planner. It requires to make many searches and many time rebuild my route to build the final one.
Living in Germany I travel the most in Europe. You can cross a few country borders a day, which have different laws and road conditions. Probably Europe is not the simplest case for trip planners. Nevertheless, technologies become more affordable, data more open. So I hope that one day a Road Trip Planner solving the customer pain points will appear on the market.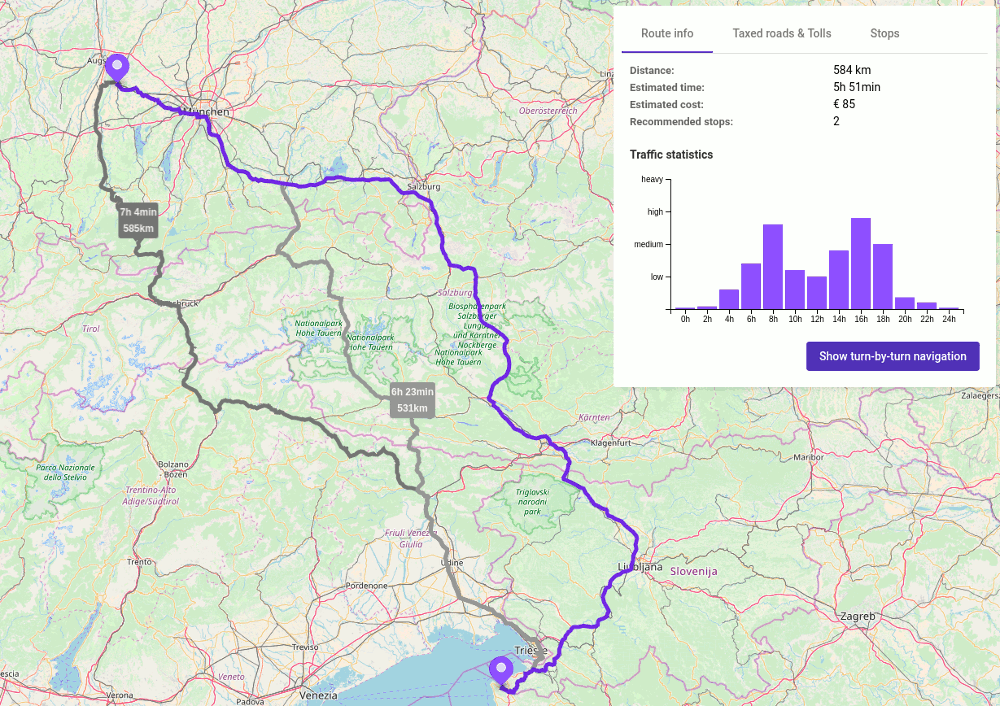 Features of the perfect road trip planner
Easy to start
A too complicated user interface, too many steps required before the first results appear make people puzzled and confused. As there are already many trip planners, there is a user interface, which people aware of. Usually, route build starts from choosing 2 or more locations. Additional options could be offered on later steps.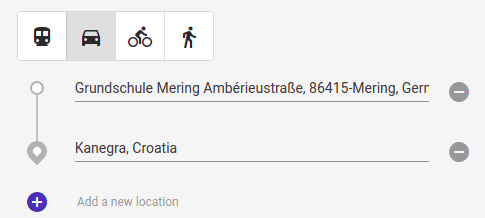 Alternative routes
It's always good to have an alternative. Even the smartest AI can't predict 100% customer wishes. It could happen that the fastest route is not always preferable.
The smart route planner will give an overview of each route as well. Estimated costs (including tolls and taxes), load and some other information, like beautiful views, tunnels, average speed, sights.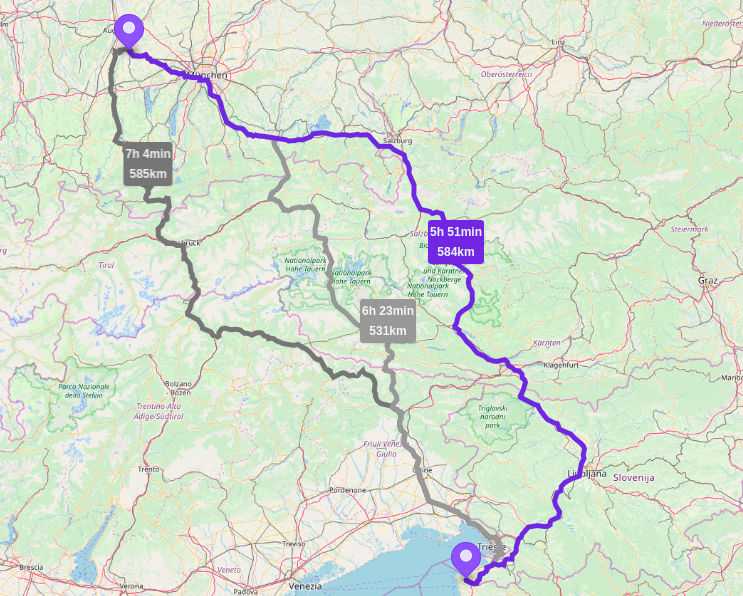 Statistics
I have school-age children and often I plan my vacation for school vacation times. During a school vacation, you could spend hours in traffic jams if you start your journey in the wrong hours.
It would be great to see on the map which regions have school vacation at the same time. Statistics could help to figure out the busiest traffic hours.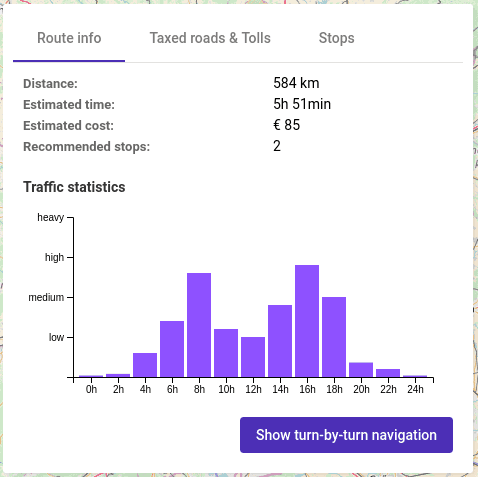 Different data depending on the distance
People need different information when they drive 30 min, 4 hours, or 3 days. It's easy to make a road trip planner a bit smarter and provide different information depending on route length. For example, for short trips, the map could show supermarkets, playgrounds, and cafes, for a few hours trip - rest stops, gas stations, restaurants, for long distances - hotels and campings in addition.
Split the route
It's not recommended to drive more than 2 hours without stop. It would be great if the trip planner will highlight 2- hour route intervals and suggest a rest stop at the end of each interval. The same functionality could help to choose the overnight stay for routes longer than 6 hours. Of course, the concrete numbers should be configurable.
Amenities
With all existing tools, it's really a nightmare to find interesting to the whole family stops. Even if, the requirements usually are simple - within 20 min from the main route, with a picnic place, with the ability to walk with a dog, none of the existing tools allow filtering locations by the criteria.
The perfect trip planner shows me possible stops with the required features and adds them to my route with a few clicks.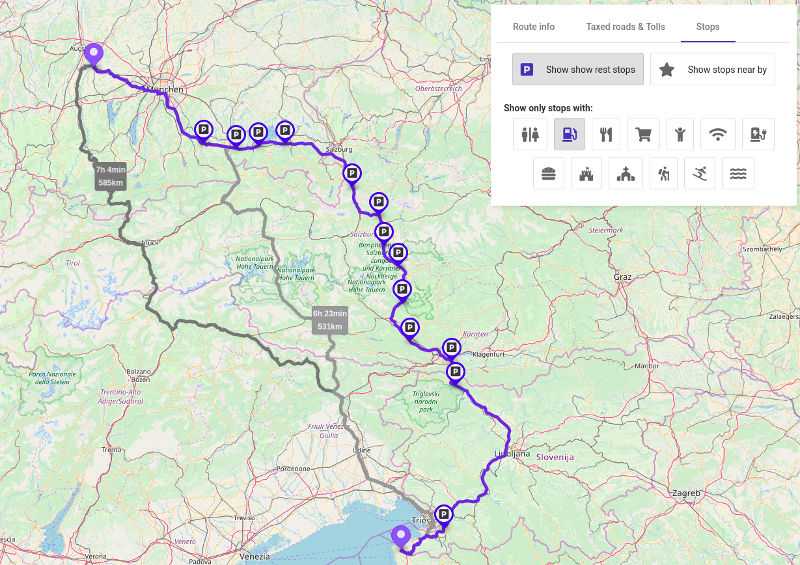 Vignette (road tax)
Some countries, for example, Austria and Slovenia, require Vignette (road tax) before you enter a highway there (sometimes only certain highways). It could become a headache for a driver, while you need to make a stop to buy the Vignette in advance, often before entering a country.
Moreover, sometimes you drive only a few kilometers on highways, which could be easily replaced with regional roads. So you will not need the Vignette at all.
It's a pity that the information about Vignettes, their sell places and ability to avoid taxed roads is missing in trip planners.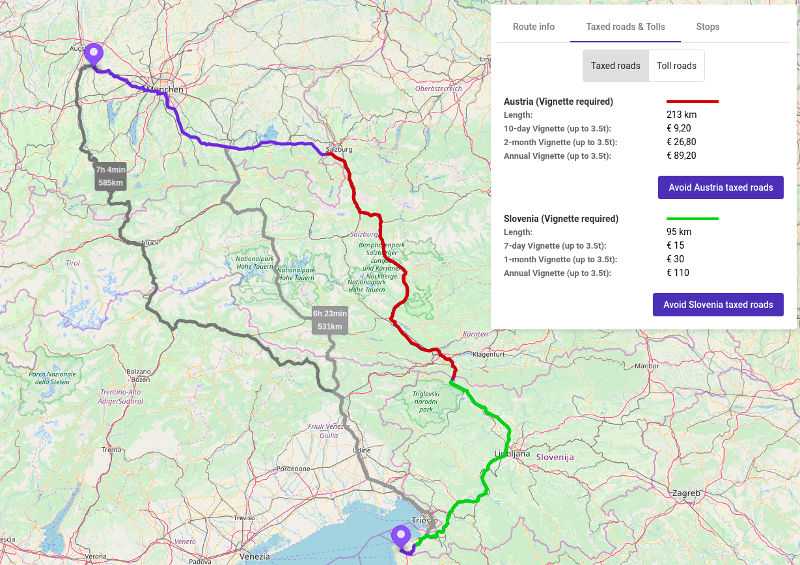 Toll roads
Usually, toll roads have better quality and can save a lot of time. You expect better road quality there and more extensive infrastructure. However, toll road gates could be a reason for a traffic jam in rush hours.
If the route contains toll roads, they should be highlighted on the map. The information where toll road gates are located and what are the best hours to pass them could save a lot of time for drivers as well.
Schedules
When you have tunnels and ferries on the road, it always good to know if there are some specific working hours or schedule. Road trip planner should warn about possible time losing and give actual information.
Integration with car navigation system
OK, now when I have my trip planned, I need to transfer the data to my navigation system. The simplest and cheapest way is just to provide a list with stops, their coordinates, and addresses.
The perfect way would be: enter a code (for example, some 3 words) and the navigation system loads all required data.
Geoapify offers APIs to build trip planning applications
With our APIs, you can create a trip planning application from scratch or extend the existing one. We offer Routing API with turn-by-turn navigation support, Places API to get Points of Interest, Isolines API and Geometry API to make your map smarter. Register and try it not for free or check our APIs in Playground without registration.