Nowadays, geospatial analytics has become essential for business analytics that empowers your decision-making process. Specifically, geospatial data is precious for targeted marketing campaigns, special offers, location-specific products, and services.
Usually, companies that deal with business data keep their clients' addresses. However, the addresses are often collected in different applications or manually and do not have geographic coordinates. So companies are opting to geocode their massive address databases sooner or later.
This article will discuss how to geocode millions of addresses quickly and efficiently.
Why it's tricky to geocode millions of records?
At first glance, the process of geocoding seems a fairly simple process. What is the challenge of geocoding a million records, though? Well, once you have limited funds and time, the real challenge begins. In other words, as geocoding of large data sets can be a very time-consuming process, it's essential to decide how much you're willing to pay to get results within the desired time frame.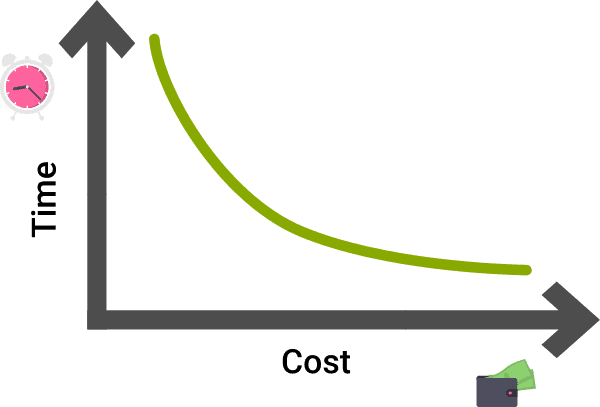 What is the lowest cost of geocoding large datasets?
In theory, you can geocode even the large address batches for Free. Most geocoding services provide a free tier that allows you to process day by day a certain amount of addresses.
For example, the Geoapify Free plan allows you to process up to 6,000 addresses per day with batch requests. This way, you can geocode around 180,000 records in a month and 1,000,000 records within a few months.
What's the fastest way to geocode large data sets?
In contrast, cloud computing allows you to process millions of addresses within days when time is of the essence.
Geocoding batches of addresses with Geoapify Geocoding API
Now, let's go a bit deeper and look at a few practical examples to help you estimate your cost. Here are some options you can consider when using the Geoapify Geocoding service.
Self-service with API subscription
We recommend subscribing to Geoapify's API to process large batches, as this is the most flexible and easiest way to do so. We offer different pricing plans with different usage volumes. In addition, we offer custom plans when you need something special.
For example, with the API250 subscription plan, you will be able to process up to 500,000 addresses daily. So you can finish a few million addresses within a few days.
You can use the subscription plans even if you have a one-time job. They are billed monthly and can be canceled at any time.
Custom server for unmetered API calls
The following more advanced option is using a dedicated server. One Geocoding server costs €700/month with an installation fee of €200. It can handle the process of up to 2,000,000 address lookups in one day. This means you can get 10 million addresses geocoded in five days.
Turnkey solutions for large address batches
We offer turnkey solutions, as well as advice, to help you complete your project. We can take your data, process it with our cloud processing clusters, and deliver it in the format you want.
To assist you in your budgeting, we have provided the following examples of pricing based on different use cases:
| Number of addresses | Time frame | Price |
| --- | --- | --- |
| 100,000,000 | 10 days (240 hours) | from 7,000€ |
| 100,000,000 | 20 days (480 hours) | from 5,000€ |
| 200,000,000 | 10 days (240 hours) | from 14,000€ |
| 200,000,000 | 20 days (480 hours) | from 10,000€ |
| 500,000,000 | 20 days (480 hours) | from 25,000€ |
| 500,000,000 | 30 days (720 hours) | from 15,000€ |
The price is negotiable and varies depending on the type of relationship and level of support.
What about data ownership?
A geocoding service's policies regarding data ownership should be a top priority when choosing a provider. Some API providers have strict policies about the use of their data. For example, they prohibit storing the geocoding data they return.
The best thing about Geoapify is that all its services are based on open data. So we allow you to store data in your databases with no restrictions.
What's next