Google Maps is one of the best interactive maps. We use it every day to build routes, get more information about places and plan our trips. But does it cover 100% of our needs and requirements? Or even more generic question: can one product cover all users needs and requirements?
Just recently I planned a journey by car with my family. It was 678 km or 7 hours of driving one way. I needed to choose a route and plan intermediate stops. Of course, I used Google Maps to do that, but it took me quite a lot of time and effort to solve my problem. Even if Google Maps gives very good results for general cases, it still needs improvements to cover more specific needs.
As professionally I work with spatial analytics and digital maps, I hear the "Why do need to create more interactive maps if we have Google Maps?" very often. In this article, I provide some ideas, which could give the answer.
Why do we need interactive maps at all?
It's a silly question, isn't it? Maps allow exploring locations and places, which we do not know very well or which are new for us. In other words, maps give us answers to location related questions, help to plan trips and optimize them. Ideally, a map should answer all your location questions from a box. So you do not need to use other tools or services.
Of course, it's difficult or maybe even impossible to make one tool answer all the questions. That's why it happens that we have a dozen browser tabs opened trying to solve a small trip planning task. For example, split a 6-hour driving route as well as find pleasant and interesting places for stops.
Should we have a separate map website for each and every use case?
Don't think so. It doesn't make sense to compete with Google Maps. But a map could be a part of a website. So it's not a separate web service but a part of your main website. Moreover, if your customers can find all the answers on the website it will make it more informative, attractive and useful.
What should the map contain?
It should answer questions! Where is it located? How can I get there? What interesting can I find nearby? Moreover, the map should help to find a location which fits the chosen criteria and allow filter locations by criteria. A map nowadays is more than a map, but the location intelligence solution.
For example, if your website offers beach holidays planning, the map could show hotels within walking distance from a beach, sights nearby, restaurants & cafes. Further allow to build routes to those amenities, give information about tolls or local public transport tariff.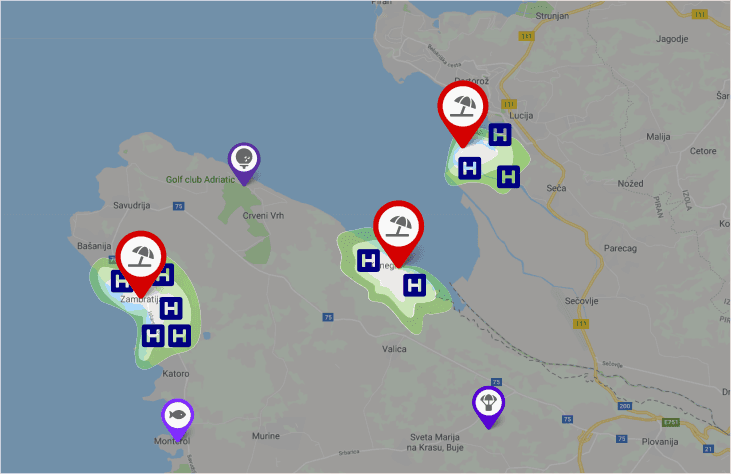 Geoapify Mapping APIs and components to create interactive maps
Only you know how an ideal map for your website should look like. We at Geoapify can support you by providing the required APIs and tools. You can register and start to use the APIs for free or try them in our Playground right now - no registration required.
Reach us at [email protected] if you need help or missing some features! We are interested in improving and extending our services!