Now you can create amazing custom map marker icons for your map with a few clicks with our new Marker Icons API. We combined the most popular map pin shapes with Material Design and Font Awesome icons set. Moreover, provide you easy to use and flexible API that lets you create icons of different sizes and colors. Is it Free? Yes, the API is Free to use for all our registered users, however, we set a limit of 250.000 requests/month for Free plans.
As all our APIs the Map Marker API works via HTTP Get requests. It returns a png-image of specified parameters as a result. Here is an example of the API URL: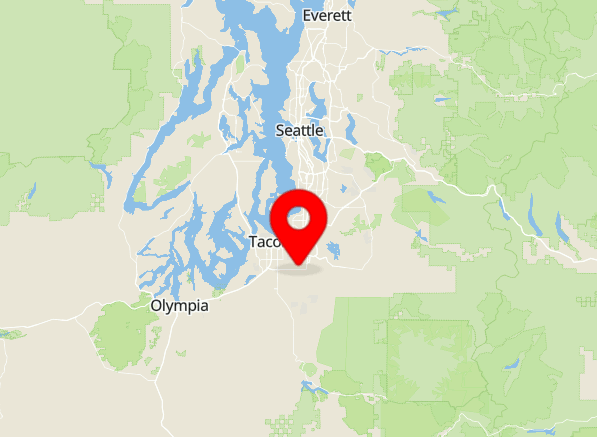 Map Marker icon types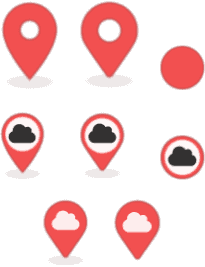 The API gives you a choice of different icon forms: circle, Material Design Marker Pin, and Font Awesome Marker pin. Furthermore, you can add an icon to the Marker. Optionally you can draw an icon on a white circle or without. By default, all pin markers have a shadow. However, you can always remove it with a noShadow parameter.
Map Marker icon sizes

The API allows setting marker icon size: small, medium, large, x-large, or xx-large.
Marker Colors

No limits here! You can use any color that fits your project or you just like! Note, that for markers without white circle the color if the icon is automatically adjusted. In addition, you can change stroke color and shadow color. For example, make the shadow not dark, but light to make it look good on dark-color maps.
Icon sets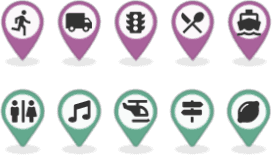 With Marker Icons API you can use Material Design and Font Awesome icon sets. All you need to do is just to specify the icon name in the URL.
Both icon sets have a permissive license and allowed to be used in commercial projects. The Material Design is available under Apache license version 2.0, the Font Awesome web font - under SIL OFL 1.1 license.
Marker icon text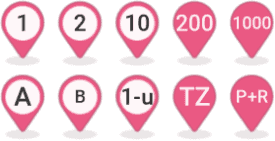 Text icon content is an alternative to icon content. You can add a custom text, define the text size, add or remove the white circle.