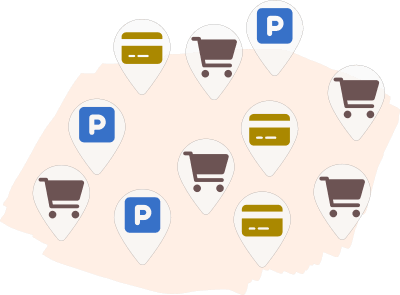 Geotargeting in Marketing
Every business wants more engaged customers. Customers who buy their products and services, then come back for more. To get those engaged customers, you need to let them know about your business, and why they should spend their money with you.
Geotargeting can improve your marketing campaigns. You can reach potential customers more effectively by incorporating location data into your marketing strategy.
Contact us, and we'll help you find the best approach for using geodata for your use case.
Showing Your Customers Relevant Ads Is Key To Engagement
Think of it like this. Imagine you're at a sports event. It's half time and you're hungry. You go in search of food, and find a stand advertising snacks and cold drinks. You're delighted to find what you wanted. But if you found a stand advertising microwave meals, you'd be confused and wouldn't visit. After all, you're in a hurry. You need the food you want, right now..
It's the same for your busy customers. Relevant ads that target their needs drive interest and inspire action. Irrelevant ads don't. Geomarketing is one way to provide more relevant ads.
Geomarketing means incorporating location data into your marketing strategy, to target your ads better.
The aim is to improve your chances of putting the right message in front of the right customer at the right time.
One popular geomarketing method is Geotargeting. You use location specific data to serve content to users based on their location. You can target customers by:
Country
City
State
Zip or postal code
Within certain boundaries or in a specific radius.
Most geotargeting marketing is done on mobile devices, but it's sometimes done cross-device.
Location based marketing is growing increasingly popular. Get on board today and start serving location targeted ads that get your customers' attention.
How Geotargeting Marketing Improves Your Campaigns
Geotargeting marketing can dramatically improve your campaigns. One report found that almost nine in ten marketers said location-based advertising and marketing led to higher sales.
And that's not all. Most respondents (86%) said location marketing helped grow their customer base. And an impressive 84% said it led to higher customer engagement.
Geotargeting means you pay attention to where your ads will be shown. You can tweak your message to fit not only your target customer, but their location too.
For example, you can set up an ad campaign to show only to customers in a specific location or radius. Some applications of geotargeting in marketing include:
Retailers that offer free delivery in a certain radius can show ads to customers in that radius.
Stores with promotions in specific locations can show ads to customers within a reasonable distance of that location.
On the go services such as takeaways and cafes can show ads to nearby customers and encourage them to drop in.
Bigger businesses with a range of locations such as real estate brokers or hotel chains can serve ads to customers near to each location.
Geotargeting Works For Online Businesses Too
Geotargeting isn't only about small businesses and physical stores. Online retailers can tailor their adverts to their customers' locations.
A global clothing brand could show summer clothes to those in warm climates, and winter options to those on the other side of the globe.
A meal kit service could offer promotional kits to match local holidays and events.
Businesses of all kinds and sizes can run online promotions linked to local events, news, or weather.
You can also use geomarketing to remove potential language or cultural barriers between you and your customers. When you target ads to specific areas, change the language, currency, and cultural references to speak directly to your customers in that area.
Using geomarketing in this way keeps your ads relevant and personal, creating an instant connection.
Geomarketing lets you offer personalized experiences. Personalized experiences make your customers feel seen and understood. You'll build deeper trust in your brand.
Other Ways Geomarketing Helps Your Business
Geomarketing has several other useful applications for your business.
Gather data to build more effective ads
Geotargeted campaigns are a gold mine of data. Use the results from geotargeted campaigns to learn more about each market segment. See what's working and what isn't, so you can readjust your ads for even more effective campaigns in the future. Geomarketing gives you location-specific insights into customer behavior, spending habits, consumer trends, demographic data and more. You can use that data to analyze your target markets for better understanding.
Examine future locations
Don't stop with your current locations. You can use geomarketing data to analyze potential future store or office locations. Take a look at spending habits and demographics, public transport, and road layouts. Figure out if a store is reachable by enough of your target customers. Use the data to figure out if a new location is worth the investment.
Run ads your competitors won't see
One little known but highly useful way to use geomarketing is running ads under your competitors' radars. If you have a physical store and you want to try out ads without letting the competition know what you're doing, geotargeting can help. Use specific targeting alongside IP exclusion to run localized ads that your competitors won't see.
Create highly targeted campaigns based on intent
You can combine geotargeting marketing with available information about your customers to create highly targeted campaigns. For example, you can take into account previous interactions and demographics to figure out interest and intent. If someone has made several previous visits to car showrooms in a specific area, they're probably planning to buy a car. You can use this information to target showroom ads to those customers the next time they visit the area.
If you want to see how effective this is in action, take a look at this geotargeting effort from Denny's.
Denny's started with using proximity targeting to reach out to customers who were near a Denny's restaurant. Their efforts were successful. Their "unlimited pancakes" promotion gave them 30% more click-throughs than the industry average.
But Denny's wanted to go beyond click-throughs into actual, measurable increases in store visits. Instead of just targeting nearby customers, they wanted to target the nearby customers who were most likely to visit the chain. They started including data about in-store behavior and previous Denny's visits in their campaigns. The result? A 34% increase of in-store visits.
Encourage customers to share data
Customers are wary of sharing personal data, especially with so many companies asking for it. One survey found that 20% of customers said promotion incentives and discounts tailored to their interests would be the most valuable benefit they could get in exchange for their personal data. Geomarketing is one way to offer the kind of personalized offers customers want.
Examples of Geomarketing and Geotargeting Solutions
Chances are you're already aware of some of the geomarketing and geotargeting solutions offered by the most famous social media brands on the globe. Let's take a look at what these six companies are offering businesses like yours.
Google ads. Google lets you select ad locations based on country, region, or a specific radius from a location. It also lets you target customers based on "location groups." Location groups include places of interest, business locations, or certain demographics. For example, if you run a Colorado ski resort, you can target ads to customers showing interest in "Colorado ski vacations" or "Colorado resorts" regardless of which state they live in. Google Ads also lets you exclude locations. If you only offer shipping within Europe, you can exclude people outside of Europe from seeing the ad.

Twitter. You can target your Twitter campaigns towards specific countries, metros, or postcodes. If you want to capture prospects only in one state, like Boston, or a specific country like Germany, you can. Twitter uses web addresses and mobile signals to track users' recent locations.

Instagram. With Instagram, you can tag locations in your posts. If you want to advertise your London gym chain, tag it #London, so when users search for gyms in London, they'll see you. You can also use geotags or add stickers in your Stories to target your location.

Facebook. Facebook lets you select your ad reach based on country, city, or region. You can get even more specific if you target by free trade area, or other categories such as emerging markets. Facebook monitors to see if ads are performing better in some areas than others, and can reallocate your budget to show more ads in the most successful locations.

Snapchat. If you're looking to target a younger demographic, Snapchat's location capabilities could be for you. Snapchat lets you target to postcodes, regions, metros, states and countries. It also offers address and radius targeting. You can also target your ads to people at specific types of location, such as movie theaters or concert venues. For example, if you run a restaurant that offers pre-theater drinks and nibbles, targeting people near theaters is a smart move.

LinkedIn. Linkedin has geographic location targeting as a required field when you sign up for ads. You can target your ads based on specific countries, regions, or states. You can also choose to exclude specific areas. Rather than targeting mobile data, LinkedIn looks at the permanent or long-term location specified by users, and targets those.
How Geoapify Helps You with Geomarketing and Geotargeting
Geomarketing and geotargeting give your business a competitive advantage, but how do you get started?
Geoapify has the tools you need for more effective Geomarketing and Geotargeting. To get the results you want from geomarketing and geotargeting, you need high quality data. Geoapify helps you get that data.
Here's how:
Use our IP Geolocation API to see a customer's location up to the city level. Use IP Geolocation to target ads to customers in the vicinity of a specific place.

Our Places API lets you query places in a location. We cover over 500 categories including restaurants, tourist attractions, hotels and leisure spots. Use our API to show places on a map. Let your customers know where their nearest location is, or show them where special offers are valid.

Analyze location reachability and reachable places using our Isoline API. Use our API to figure out what's reachable in a certain time from a specific location. For example, how many branches of a specific restaurant are within fifteen walking minutes from a city center location. Use this information to figure out which campaigns are most viable.

We can help you gather statistical and geodata information about a specific place. Find out about population, building density, number and type of amenities, and more. Contact our experts today to learn how.
Your clients are bombarded with so many ads and pieces of information every day. The more relevant you make your ads, the more likely you are to get the engagement (and sales) you're seeking.
Use geomarketing and geotargeting for hyper-focused ad campaigns that are perfectly pitched to your customers. They'll get ads that matter, and you'll make much better use of your ad budget.
Geoapify offers expert tools and APIs, alongside free playgrounds and reliable advice that make it easy to get started. Start using Geoapify today, or get in touch so our experts can help you find the best solutions for your business.